Is the Vehicle Owner Liable for Personal Injuries in Florida?
In the State of Florida, both the at-fault driver and the owner of the vehicle are legally liable for personal injuries caused by an automobile accident.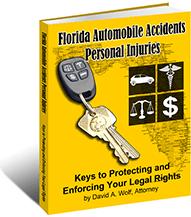 This is even if the owner was not present at the accident or in the vehicle at the time. The owner of the vehicle driven by a negligent driver is still legally liable for personal injuries. Likewise, related damages can be charged to the vehicle owner. Florida adopted the Dangerous Instrumentality Law for Automobile Accidents which enacted these rules.
Some believe that the Dangerous Instrumentality Law is not fair. However, in many states like Florida, an automobile is a "dangerous instrumentality."
Because of this, Florida law sets forth that the owner of the vehicle who allows another person to drive the vehicle is legally responsible for the driver's negligence or fault.
Personal Injury Issues in a Car Accident
After an automobile accident involving personal injury, many issues may arise. These issues involve:
Automobile insurance
Medical bills
Medical treatment
Selection of doctors
Past medical treatment
Future medical treatment
Pain and suffering
Other matters
Read more about these issues in the free Ebook. Florida Automobile Accidents: Personal Injuries.
Also, there may be more than one person or party liable when there is an automobile accident.
The liability for any particular party will depend on a number of factors. They include the assessment of fault for the accident and the applicable insurance policies in place.
Because multiple parties may be involved or liable and multiple policies or claims may be pursued for any particular accident, it is often helpful to have the advice and representation of a Florida Automobile Accident Lawyer.
They will enforce the victim's rights. Likewise, they'll ensure appropriate and fair compensation is obtained from all available sources.
Will Hiring an Attorney Help Me?
An experienced attorney in personal injury cases can advise the victim and family as to issues including medical bills, medical treatment, insurance coverage, insurance claims, legal rights, compensation, damages,and other matters.
They will handle these legal cases on a contingency basis (i.e., no recovery, no fees).
Because of these attorney fee arrangements, injury victims are able to secure the services of a qualified Florida Personal Injury Attorney without having to pay any money up-front to the attorney for investigation or representation.
What Can You Do?
If you or a loved one has suffered a personal injury as the result of an accident and are concerned about the long-term emotional and financial consequences, you need to consult with a skilled personal injury attorney to learn about all of your options.
Our Jacksonville personal injury law firm will work to protect your legal rights and pursue rightful compensation for long term medical bills, wage loss, disfigurement, pain and suffering, emotional distress, mental anguish, and lost enjoyment of life.
Contact us online or call us at (904) 355-8888 or click to to set up a FREE personal injury consultation to discuss your legal options.
Our Reviews

See What Our Clients Are Saying
Contact Us
Fill out the contact form or call us at
(904) 355-8888

to schedule your free consultation.
Free Consultation

Decades of Experience

No Fees, Unless You Win
Free Consultation (904) 355-8888