Jacksonville Slip and Fall Attorney
Experienced Jacksonville Slip and Fall Attorneys
Slip and Fall / Premises Liability Attorneys in Jacksonville FL
When you or a family member has a slip and fall injury caused by someone else you need to contact experienced, aggressive slip and fall attorneys.
Wood, Atter, & Wolf are personal injury attorneys with 62+ years of experience, and have recovered over $50 million + for there clients.
Approximately one million Americans suffer a slip and fall or trip and fall accident each year. They happen in places ranging from grocery stores and apartment complexes to restaurants and convenience stores.
Likewise, according to the National Safety Council, 1 in 114 American will die from a slip and fall accident.
Furthermore, slip-and-falls occur because of wet floors, poor lighting, spilled products or liquids or other hidden hazards. Also, these hazards are not easily seen or properly identified or warned against.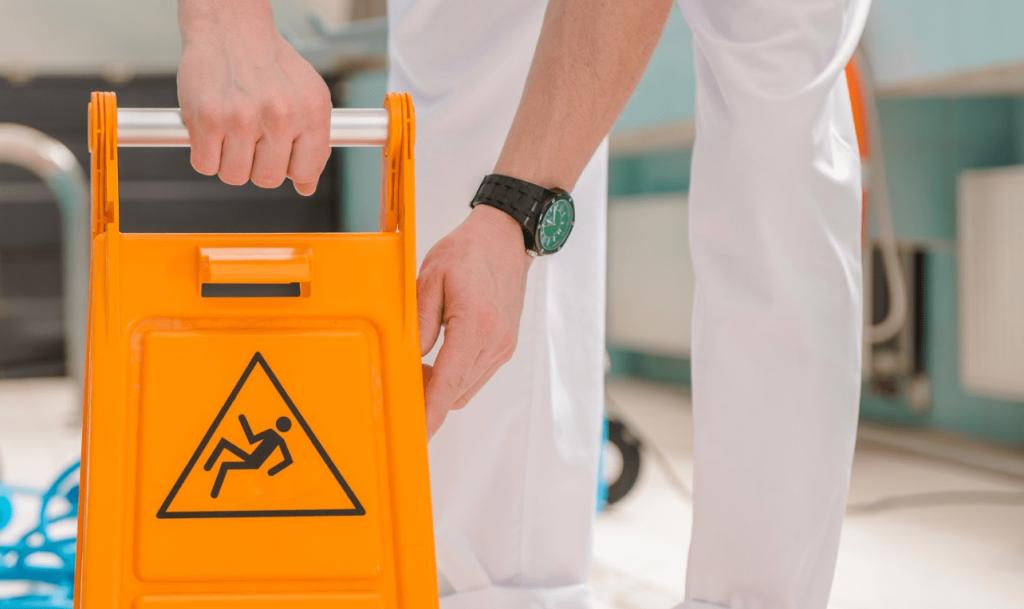 Similarly, falls can be brought about by large cracks in flooring. Or, by hidden objects that obstruct someone's path or items that have fallen off shelves. Even broken stairways or banisters and safety devices that fail in bathrooms can cause injuries and sometimes death.
These injuries can range from inconvenient (bruising) to devastating (brain injury, spinal cord injury, broken bones or death).
Slip-and-Falls Can Devastate Lives
According to the CDC, over 800,000 patients a year end up in the hospital because of a fall injury. Most often it is because of head injury or hip fracture.
These Premises Liability claims can become a legal case when property owner or employees or agents have been negligent. In other words, by failing to properly maintain the property in a safe condition, Or, by creating unsafe conditions that lead to a slip and fall injury.
For instance, Often it is enough if a property owner or employee or agent knew about an unsafe condition, or should have known about it, but did not take action to remedy it or warn its patrons about it.
So, if you have suffered an injury of this type, you may be able to file a claim or lawsuit for your injuries and recover for your medical expenses, wage loss, pain and suffering, mental anguish, emotional distress, and lost enjoyment of life.
What to do after a Slip, Fall or Trip Resulting in Injury
First of all, report the incident to a staff member, owner, landlord or responsible party. Therefore, the hazard will not affect anyone else. Likewise, be sure to request emergency services if needed to be dispatched.
Second, if emergency services are not warranted, seek immediate medical attention to ensure your well-being and to document the extent of injuries you incurred.
Third, try and collect any evidence of the hazard like cell phone pictures or the names/telephone numbers of witnesses who saw the accident.
Also, do not discuss the incident with anyone except to report what happened. Leave the speculations up to others.
Next, as soon as you can, write down the time-line and conditions that led to your slip, fall or trip.
Remember to keep any evidence like torn, wet or contaminated clothing or shoes as they will be needed later on.
Even more, do not talk to an insurance company or give any statements as to what happened.
Finally, contact Wood, Atter & Wolf, P.A. , which has personal injury attorneys that have been handling premise liability cases involving injuries or death for over 62+ years.
Why Choose Wood, Atter & Wolf, P.A.
Michael Atter and David Wolf have extensive experience handling all types of personal injury cases.
Remember, slip-and-falls are very common, especially in Florida due to the wet conditions that exist and air-conditioned establishments, where water can collect and cause unsafe conditions.
So, if you have suffered an injury from a slip, trip or fall, you may be able to file a claim or lawsuit for your injuries and recover for current and future medical expenses, loss wages, compensation for pain and suffering, long-term disability, mental anguish, emotional distress, and lost enjoyment of life.
Above all, property owners are responsible and lawyers with experience with Florida premises liability law can help you seek damages for your injuries.
So, if you or a loved one have been injured due to someone else's negligence, give us a call today for a Free, No Obligation Consultation to discuss your legal rights.
Wood, Atter & Wolf, P.A. has been servicing the Northeast Florida area, including Jacksonville, Orange Park, St. Augustine, Fernandina Beach and the areas around Duval, St. Johns, Nassau, and Clay counties for over 62 years.
Call Us now at (904) 355-8888 or Contact Us for a FREE consultation.
Our Reviews

See What Our Clients Are Saying
Contact Us
Fill out the contact form or call us at
(904) 355-8888

to schedule your free consultation.
Free Consultation

Decades of Experience

No Fees, Unless You Win
Free Consultation (904) 355-8888