Download Free Ebook: Florida Automobile Accidents – Personal Injuries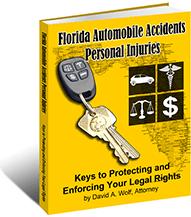 In the State of Florida, there are over 200,000 car accidents every year. It is estimated that over half of these crashes result in personal injuries.
Since there are typically multiple vehicles involved in a crash, the number of cases or claims that result is quite disturbing.
When a driver or passenger suffers an injury as a result of the negligence of someone else, the victim needs to understand their legal rights.
Furthermore, all drivers in the State of Florida should take the time to know their insurance coverages prior to a crash. Once a crash takes place, you cannot change insurance coverage for that crash.
Furthermore, many people do not know what is covered under their policy until they are dealing with the real-life challenges that come with a car cash.
Florida Automobile Accident – Personal Injuries
This book covers a number of topics including the following.
General Issues and Questions
Medical Treatment and Follow Up
Insurance Issues and Common Questions
Florida Automobile Accidents – Case Types
Florida Automobile Accidents – Types of Injuries
Wrongful Death
Settlement, Compensation, and Damages
The evaluation of a Florida personal injury claim does not begin and end at the crash scene.
There are rare times, though, like a wrongful death or immediate catastrophic personal injury where further evaluation is not done.
In most cases, the diagnosis and treatment of the injuries related to the accident will take time to develop and evaluate by the medical providers, attorneys, and insurance adjusters.
Automobile Accident Neck and Back Injuries
This is especially true for neck and back injuries. In most cases with neck and back injuries, the first mode of treatment is not surgery or invasive pain management. The treatment typically runs through a course and progression.
If an injury victim responds well to treatment like P.T., then there may be no need for pain management or surgery.
For others who do not respond to conservative treatment and who have injuries that greatly interfere with activities of daily living, then the options of pain management and surgery are considered and done if necessary.
Many personal injuries do not result in surgery; however, the lifelong effects are still felt since there is no procedure that can limit or reduce the day-to-day pain and suffering that can come with these injuries.
Automobile Accident? Know Your Rights
When faced with a car crash, victims need to know about the Florida laws, procedures, and insurance regulations.
This book gives a solid overview of personal injuries, insurance coverage types, case values, and other matters.
It is not a substitute for legal representation.
It is, however, a good and simple summary of how insurance works and how cases are evaluated.
With over 25 years of experience with these claims, David Wolf knows the process and provides this book free of charge to his clients, former clients, contacts, and anyone else seeking information.
David Wolf provides a free consultation for personal injuries cases, including car crashes. The case would be handled on a contingency basis which is no recovery – no fee, if accepted.
Download Your Copy Today
Fill Out the Form Above to Get Your Copy.
Our Reviews

See What Our Clients Are Saying
Contact Us
Fill out the contact form or call us at
(904) 355-8888

to schedule your free consultation.
Free Consultation

Decades of Experience

No Fees, Unless You Win
Free Consultation (904) 355-8888