Download Free Ebook: Florida Day Care Center Injury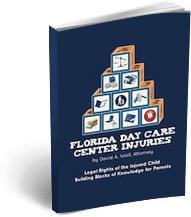 Legal Rights of the Injured Child Building Blocks of Knowledge for Parents
The book –"Florida Day Care Center Injuries – Legal Rights of the Injured Child – Building Blocks of Knowledge for Parents"– was written by David Wolf, a Florida Child Injury Lawyer and Child Safety Advocate.
The book was written with the aid of information gathered through legal research, the representation of injured children, and the input of educators, physicians, and other child care professionals.
Mr. Wolf has over 20 years of experience as an attorney and has spent his entire career dedicated to issues involving the rights and welfare of children.
According to Mr. Wolf, "the safety of children should be priority one in every Florida day care center." The book – Florida Day Care Center Injuries – has chapters on the following issues:
Florida Day Care Center Negligence
General Laws and Regulations
Outdoor Equipment and Playgrounds
Indoor Facilities
Supervision of Children
Parental Supervision
Discipline and Punishment of Children
Transportation
Fire Drills and Emergency Procedures
Staff Requirements
Records
In Florida and other States, parents rely on day care centers to provide care, supervision, guidance, and education to children.
Most day care centers follow the rules, regulations, and laws.
Furthermore, most day care centers use common sense and put forth the due diligence necessary to maintain a safe and nurturing environment for children.
Unfortunately, many children are injured in Florida day care centers.
This is especially troubling when the injuries could have been avoided with compliance with rules and regulations and with better and more consistent supervision of the children under the care of the Florida day care center.
Our Reviews

See What Our Clients Are Saying
Contact Us
Fill out the contact form or call us at
(904) 355-8888

to schedule your free consultation.
Free Consultation

Decades of Experience

No Fees, Unless You Win
Free Consultation (904) 355-8888