Download Free Ebook: When a Dog is Not Man's Best Friend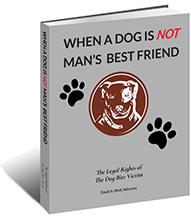 The Legal Rights of the Dog Bite Victim
Dog ownership is both a right and a privilege. Certainly, there are many benefits to dog ownership.
There are also responsibilities as to dog ownership especially when there is a dog bite or dog attack injury.
Dog owners should maintain control of their dogs at all times.
Dog leash and other applicable local and state laws should be followed. Dogs are unpredictable animals.
A loud noise, sudden movement, food, another animal and other common situations can set a dog off to attack an unsuspecting child or adult.
The book – When a Dog Is Not Man's Best Friend – The Legal Rights of the Dog Bite Victim– has chapters on:
General Legal Issues
Medical Treatment and Personal Injuries
Insurance Issues and General Questions
Liability, Comparative Fault, and Proof Issues Involving a Dog Bite Case
Legal Rights of the Injured Child Injured by a Dog Bite
Dog Bite and Dog Attack Incidents – Wrongful Death
Settlement, Compensation, and Damages
Most states have a Dog Bite or Dog Attack law in place that spells out the cause of action or elements of a case or claim for personal injuries. The laws vary from state to state.
As such, there is no "golden rule" or "universal rule" that applies to each and every dog bite or dog attack situation.
Here are the types of laws applicable to dog bite / dog attack situations:defect with the bike or roadway, or a collision with an object as the result of someone else's negligence.
Strict Liability
Some states have adopted a "strict liability" law for dog bite / dog attack situations. In these states, a dog owner is legally responsible as a matter of law for the injuries resulting from a dog bite regardless of prior knowledge of the dog being dangerous AND / OR regardless of the negligence or fault of the dog owner.
Strict liability laws are put in place as a matter of public policy concerns for the activity involved like dog ownership.
Florida Dog Bite Law – One Free Bite Law
Some states have a "one free bite" law in place. This is usually not the title of the law in the statute books.
This type of law typically refers to the requirement that the dog show some aggressiveness in the past to establish a claim or case against the dog owner for a current or recent dog bite or attack.
Under this law, the dog owner must have some knowledge of the prior aggressiveness or viciousness of the dog.
Florida Dog Bite Law – Negligence Law
Unlike the strict liability and the one free bite laws, the negligence laws in place in some states require proof that the dog owner failed to use reasonable care in the control or care of the dog.
This may include having the dog off the leash, leaving a door or gate open, or having a hole in a fence.
If a state adopted a general negligence standard for dog bite or dog attack cases, there will generally be four elements necessary to prove a cause of action as follows:
Duty;
Breach of Duty;
Causation; and
Damages.
These elements and other issues are covered in more detail in the book. David Wolf is the author of 7 books focusing on personal injury and safety issues.
He has over 25 years of experience and firmly believes in the concept of Giving a Voice to Dog Bite Victims and Their Families. Get D Wolf On Your Side – At Your Side.
Our Reviews

See What Our Clients Are Saying
Contact Us
Fill out the contact form or call us at
(904) 355-8888

to schedule your free consultation.
Free Consultation

Decades of Experience

No Fees, Unless You Win
Free Consultation (904) 355-8888