Download Free Ebook: Bikes, Trikes, and Automobiles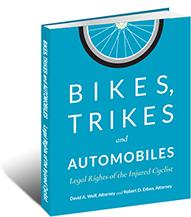 Legal Rights of the Injured Cyclist
The book – Bikes, Trikes and Automobiles – Legal Rights of the Injured Cyclist – was written by David Wolf, Attorney and Robert Erben, Attorney.
Both attorneys have devoted their respective legal careers to the enforcement and protection of the legal rights of injury victims including those injured while riding a bicycle.
In the busy world that we live in, it is important to keep in mind that cyclists are in every community.
A cyclist can be a toddler, a senior, or anybody in between. What all cyclists have in common is the risk for injury especially when there is a crash or accident with a motor vehicle.
Let's face it, the body of the cyclist and the frame of a bicycle are no match for a passenger car, commercial truck, or any other type of vehicle.
In the aftermath of an accident involving injuries to a cyclist, there are many questions and challenges that follow.
It is important for the injured cyclist and his or her family to have the benefit of advice, consultation, and guidance regarding a potential claim or case.
Because of these very challenges, Mr. Wolf and Mr. Erben wrote the book – Bikes, Trikes and Automobiles – to provide some direction when a cyclist suffers personal injuries as a result of a crash or accident. Topics in this book include the following:
Injured Cyclist – General Legal Issues
Medical Treatment and Personal Injuries
Insurance Issues and General Questions
Liability, Comparative Fault, and Proof Issues Involving a Bicycle Accident
Legal Rights of the Injured Child Cyclist
Bicycle Accidents: Wrongful Death
Settlements, Compensation, and Damages
Since each case should be evaluated on its own facts and circumstances, the injured cyclist and his or her family should consult with a Bicycle Injury Lawyer as to the above matters and other issues that arise in the claim or case.
These cases are handled on a contingency basis.
This means that there will be no attorney fees or costs charged by the law firm handling the case unless there is a financial recovery, settlement, or verdict on behalf of the injured cyclist.
All consultations on bicycle injury matters are free of charge.
Mr. Wolf is the author of five law related books including – The ABCs of Child Injury – Legal Rights of the Injured Child – What Every Parent Should Know. This book is available for free.
It is also available at the following sites: Amazon, Barnes & Noble, and the Apple iBookstore.
In addition to these and other publications, Mr. Wolf is the author and editor of the blogs – Florida Child Injury Lawyer and Child Injury Lawyer Blog – which have approximately 3000 articles dedicated to Child Injury and Child Safety issues.
David Wolf
As an author, advocate, and, attorney, Mr. Wolf firmly believes in Giving a Voice to Injured Cyclists and Their Families. As noted on the back cover of the book – Bikes, Trikes and Automobiles, bicycles are Powered by People With Enforceable Legal Rights.
Our Reviews

See What Our Clients Are Saying
Contact Us
Fill out the contact form or call us at
(904) 355-8888

to schedule your free consultation.
Free Consultation

Decades of Experience

No Fees, Unless You Win
Free Consultation (904) 355-8888