What Is Florida No-Fault Insurance?
How Does Florida No-Fault Insurance Work?
In the state of Florida, there is a law called the Florida No-Fault Law. It applies to automobile accidents.
A lot of Floridians are confused by the title of this law. So, we will break it down here for clarity.
Many think that "No-Fault" means that a driver who is not at-fault cannot be held liable for personal injuries in a car crash.
Obviously, insurance companies and automobile accident attorneys are familiar with the law. Likewise, they know how the rules and regulations are applied to accidents. Unfortunately, the general public is not as knowledgeable about the law.
An Example of the Florida No Fault Insurance
Here is an example of how the Florida No-Fault Law works.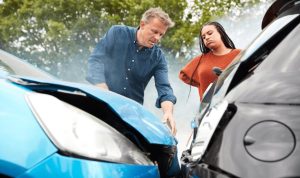 For example, Driver A was injured in a car crash. Driver B crashed into the rear of Driver A's vehicle by negligence. The reason was because Driver B had dropped his phone and took his eyes off the road.
Driver B did not realize that traffic had come to a stop. He was definitely at fault. As a result, he was given a traffic ticket.
Now, assuming Driver A was insured through Allstate and Driver B has insurance through GEICO.
Driver A later decides to pursue a claim for personal injuries he attained due to the crash.
So the question becomes, "Does the Florida No-Fault Law apply in this case? Yes it does.
This is definitely a confusing concept that the law can be applied when one of the drivers was so clearly at fault.
The Florida No-Fault Law can basically be applied in two broad concepts:
PIP (Personal Injury Protection); and
Pain and Suffering Damages
PIP (Personal Injury Protection)
PIP coverage is mandatory for every registered personal vehicle in Florida. Typically, it provides for the payment of 80% of medical bills and, in some policies, 60% of wage loss. This is up to total of $10,000.
In the example above, Driver A is required to have his medical bills and wage loss processed up front according to the provisions of his insurance policy.
Even though Driver B was at fault, Driver A must utilize his own PIP coverage to process the bills and wage loss. While this may not seem right, it is way things work in Florida and one of the core parts of the Florida No-Fault Law.
A personal injury victim will qualify for PIP under his or her own policy OR under the policy of the vehicle occupied by the injury victim. However, the latter only applies if the victim did not own a vehicle and did not reside with a resident relative who owned a vehicle. PIP rules are very intricate.
Therefore, it is wise to contact an experienced, aggressive Florida automobile accident attorney for guidance and advice regarding these issues.
Pain and Suffering Damages
The second main part of the Florida No-Fault Insurance Law has to do with entitlement to compensation for pain and suffering damages.
In Florida, an injury victim is only entitled to pain and suffering damages if the victim suffers a permanent injury, permanent scarring, or permanent loss of an important bodily function.
Likewise, if a person is killed as a result of an automobile accident in Florida, a claim or case can be brought for wrongful death.
Contact Wood, Atter & Wolf, P.A.
If you have been injured in a car accident or are the relative of someone who has been hurt or killed in a car accident and you need an experienced and aggressive car accident attorney, contact us or call our North Florida personal injury law firm at (904) 355-8888 for a free consultation to see what your case is worth.
Or, click here to schedule a consultation online.
Our Reviews

See What Our Clients Are Saying
Contact Us
Fill out the contact form or call us at
(904) 355-8888

to schedule your free consultation.
Free Consultation

Decades of Experience

No Fees, Unless You Win
Free Consultation (904) 355-8888