When a Child Is Injured at a Park or Playground: What To Do?
When a child is injured at a park or playground, there are many things to do and consider as a parent.
Here are some general suggestions. (Of course, the health, safety, and well-being of the child are more important than all other concerns.)
1. Attend to the Needs of Your Child First.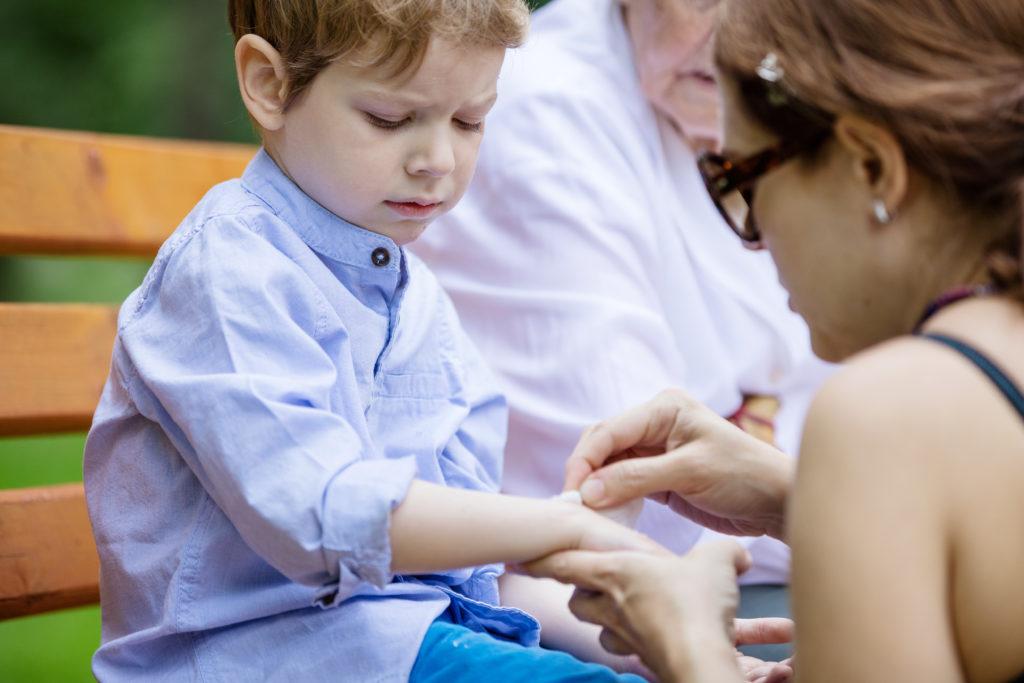 Above all else, attend to the needs of your child first.
To the extent possible, remain calm and do what you can to comfort the injured child.
Request help, as needed. This might include first aid, ice, help in stabilizing the child, help in removing the child from further danger, and help in calling a trainer, doctor, nurse, or fire rescue.
2. Photograph the Area in the Playground or Park Where Injury Occurred.
Once you have attended to the needs of your child, it may be helpful for you, a friend, and/or witness to photograph the area where the child was injured, or shoot a video.
The playground equipment could have been broken or in disrepair. A picture – and video if possible – of the equipment can be very helpful.
For instance, if the owner of the property later removes and replaces the damaged equipment, it may be difficult to show or prove the cause of the injury without a photograph.
If you were not present at the time of the injury, ask to see where the incident took place and inspect the playground equipment yourself.
3. Report the Incident to an Employee or Manager.
Make sure that an employee or manager is made aware of the incident. Get a business card or other contact info.
A parent does not have to complete an incident report to have a case to pursue.
In fact, parents should be very careful if asked to complete an incident report about a child's injury.
In some cases, the report, as completed by the parent, can be used as evidence against the parent in the future if the facts as testified to at a later date vary or are not the same as those in the incident report.
If the employee completes an incident report, a copy of the report may or may not be given to the parent. Many companies consider it to be privileged.
If asked to sign the incident report, you are not required to do so.
But, if you decide to do so, you should read it carefully and note if and where you disagree with its contents before signing.
Keep in mind that this incident report is being prepared by the business for the protection of the business. It is not being done to protect you or your child.
If there were witnesses to the incident, this information should be on the incident report, but it will often not be.
Many public parks and playgrounds do not have a full time employee present to make a report. It may be helpful in these instances to first contact an attorney before
reporting the incident over the telephone or in writing.
4. Get the Name(s) of Witnesses.
While it is important to get the name(s) of employees who either saw the incident or responded to it, it is just as important, if not more important, to get the name(s) of
other guests, visitors, and customers who witnessed the incident or responded to the incident.
If possible, get the name, address, telephone, and e-mail address for each witness.
The testimony or statement of a witness can be very helpful in establishing liability on a case in the future.
Do not rely upon the employee or manager preparing the incident report to do this. The employees have no real incentive to register the name(s) of witnesses who will help you and hurt their employer.
5. Seek Follow-Up Medical Care As Needed.
Once your child is treated initially with first aid, fire rescue, and / or emergency room care, seek follow-up treatment for the accident related injuries.
The type of care needed on follow up will depend on the severity and type of injury sustained.
However, sometimes parents or children are uninformed and believe that, unless the x-rays show an injury, the injury is minor.
This is not true.
X-rays can only show bony injuries (like a broken bone), but not even 100 x-rays can show injuries to the muscles, ligaments, tendons, or even disc injuries in the spine.
Therefore, obtain qualified outside, medical care from a doctor who has training and experience in dealing with musculoskeletal injuries every day, such as an orthopedist, neurologist, or physiatrist.
6. Write Down the Course of Events.
On the day of the incident or soon thereafter, take some time to write down or type up all the details that you and your child can remember regarding the incident itself.
Memories fade even after the passage of a few days or a few weeks.
As such, it is important to document what took place so that this information can be shared with your child injury lawyer for further investigation.
7. Seek Advice and Representation from a Child Injury Lawyer.
This list of tips following an injury or incident at a park or playground is far from exhaustive.
It is also not meant to be a "recipe" as to how to pursue a case. I have received calls from the accident scene and from the park.
While medical care is far more important initially than legal advice, a child injury lawyer can provide a concerned parent advice and consultation on a wide range of topics regarding the injury including, but not limited to, available medical care and resources, payment of medical bills, documentation, and other matters.
Wood, Atter, and Wolf Can Help You
When a child is injured at a park or playground, there are many challenges faced by the parent. This is a very stressful time with uncertainty, stress, and worry.
It is often helpful to contact a Florida Personal Injury Attorney for advice, consultation, and legal representation.
David Wolf is such an attorney with over 28 years of experience in representing and helping victims throughout Florida. He firmly believes in giving a voice to victims and their families.
Get a Free Consultation today and get on the right track to the compensation that you and your family rightly deserve.
Our Reviews

See What Our Clients Are Saying
Contact Us
Fill out the contact form or call us at
(904) 355-8888

to schedule your free consultation.
Free Consultation

Decades of Experience

No Fees, Unless You Win
Free Consultation (904) 355-8888